Welcome to the online home of Trendy Times, your local "Viewspaper"
Current Issue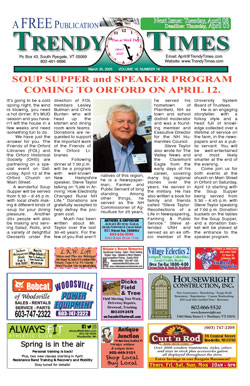 We are a "Viewspaper" because we welcome and encourage input from local people about local people and events as well as opinions and remembrances.
Our featured articles include:
Trendy Kitchen
NH State Senator Jeannie Forrester
In Wine There is Truth - And Beauty by Robert Roudebush
People You Should Know
Scrutonizing the Movies
Letters to the Editor
Elinor Mawson's Rememberances
Trendy Dining Guide
Press releases
We also have a number of writers who regularly contribute articles ranging from poems to memories, informative articles, to thoughts about today's world.
Other Highlights of Trendy Times:
Free Calendar of Events listing for towns, schools, churches, and other non-profits
50% Discount on display ads for non-profits
Free classifieds for personal items
Low rates for business classifieds
Display advertising at competitive rates
Complete on-line edition
Live on-line links to selected advertisers' websites
Archive file of all past editions of Trendy Times
Not all Times are Trendy but there will always be Trendy Times

Trendy Times in Woodsville, New Hampshire
Website design ©2011
CustomSUPPORT
Comments about this site? Contact:
Webmaster
All Rights Reserved. Unauthorized use or duplication prohibited.