Rates
$6.00 per column-inch (B&W)
$7.50 per column inch (Color)
Quarter Page - B&W: $100
Quarter Page - Color: $125
Half Page - B&W: $175
Half Page - Color: $225
Full page - B&W: $300
Full Page - Color: $400
Front page
$10 per column inch (Color)
Back page
$8.50 per column inch (Color)
Municipal (including schools)
$4.50 per column-inch (B&W)
Non-profit organizations
(including churches)
$3.00 per column-inch (B&W)
Personal (non-business)
(Yard sale, thank-you, open house, card shower, etc.)
$4.00 per column-inch (B&W)
(minimum $15)
Personal classifieds
(For sale, wanted, lost & found, etc.)
Free
(maximum 25 words)
Business classifieds
(For rent, help wanted, etc.)
$10 for 2 issues
$20 for 5 issues
$50 for 15 issues
Advertise with us to see your ad in over eight thousand homes with our free distribution. We offer black & white ads as well as color ads in certain sections of the paper. Front and back page advertising is available at a small premium.
Ads are sold by the column-inch. Each column is 2 inches wide.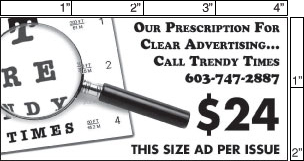 We believe that non-profit orgnizations shouldn't have to spend half their budget on advertising. We endeavor to offer the cheapest rates around for our non-profits.